Exhibitions
Art Hub Copenhagen works with a number of objectives, the most central of which is to offer up-coming artists and curators facilities and support to develop their practice, among other things by offering a temporary exhibition platform.
Art Hub Copenhagen x VEGA|ARTS
14 October – 6 November 2022
VEGA LAB and Lille VEGA
Enghavevej 40, 1674 Copenhagen
In collaboration with VEGA|ARTS Art Hub Copenhagen takes over the music venue VEGA bringing art, talks and performances.
VEGA|ARTS is a visionary space for contemporary art and part of VEGA's explorations of new live formats and how VEGA can become a venue for multiple artistic genres. It is an attempt at keeping up with artists in Denmark and throughout the world that are currently testing the categories. Right now, albums and live experiences are exposed to radical upheavals, testing the terms and limits of art, music, concert, audience and venue.
In other words, the VEGA|ARTS mission is to develop and host new artistic methods, experiences and notions of the live experience and its embodied, collective dimensions in our culture. VEGA|ARTS is now embarking on a new project phase, the goal of which is to change VEGA forever.
COLLABORATIONS BREAK HABITS
A key element in the transformation of VEGA is the acknowledgement that an institution itself does not possess all the answers or methods. That is why VEGA|ARTS will also host a multitude of collaborations, takeovers and curatorial interventions by institutions, magazines, tech actors, collectives, artists and curators, whose work is interdisciplinary, process-oriented, intersectional and virtual. Hopefully this will lead to some incredibly exciting live experiences.
THE ART HUB COPENHAGEN TAKEOVER
The first institutional/artistic collaboration with VEGA|ARTS is with Art Hub Copenhagen. From 14 October to 6 November we takeover VEGA LAB and Lille Vega, with the works of 19 different artists, inluding exhibitions of works (three artists), a Free Lunch and an explosive programme of performances on the weekend of 5-6 November, featuring performances by 16 artists, followed by concerts.
Art Hub : Exhibitions : THE ONES WHO EXIST DESPITE OF OR BECAUSE OF OR INSTEAD OF OR AFTER THE FACT OF : 06.05.22 – 28.09.22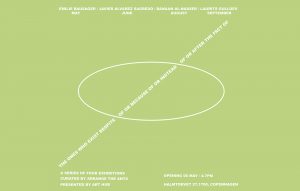 May, June, August, September
2022
In the windows at the corner of Halmtorvet 27 and Høkerboderne, 1700 Copenhagen
Curated by Arrange the Ants
The overarching theme of the exhibition series THE ONES WHO EXIST DESPITE OF OR BECAUSE OF OR INSTEAD OF OR AFTER THE FACT OF is cultural ecology, highlighting the symbiosis that links us together. "Cultural ecology" in the sense of a metaphor, as a living organism, a balanced environment in which the system is all about interaction and mutual impact. In such a community, the robust nature of certain elements cannot be isolated from the fragility of others.
In the course of four months (May, June, August and September), the artists Emilie Bausager (May), Javier Alvarez Sagredo (June), Banaan Al-Nasser (August) and Laurits Gulløv (September) will take over the windows of Art Hub Copenhagen and assume the role of co-creators of a cultural ecology that has the potential to frame a moment, preserve a fleeting present, encircle the past and imagine alternative futures in which sustainability is a persistent existence subject to change.
How can the interaction between social, cultural, and economic entities be sustainable? The philosopher Timothy Morton summed up ecological awareness as: "some kind of fusion between tenderness and sadness, joy, yearning, longing, horror, laughter, melancholy and weirdness."
Eventually, art returns to the cycle that made it possible – a reminder that our lives are connected.
Luk
Art Hub : Exhibitions : Minimalism-Maximalism-Mechanissmmm Act 3–Act 4 : 17.03.22 – 24.04.22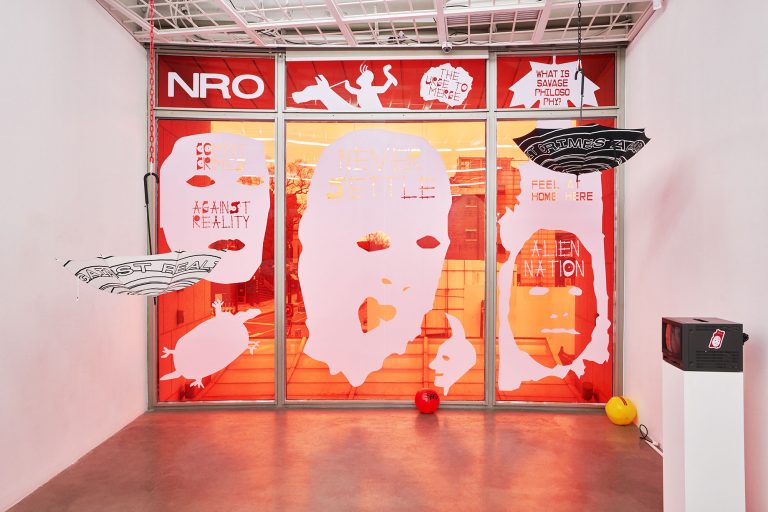 Minimalism-Maximalism-Mechanissmmm Act 3, installation view (2022). Art Sonje Center, all rights reserved, Photo: Euirock Lee.
March 17 to April 24 2022
Art Sonje Center
Seoul, Korea
Minimalism-Maximalism-Mechanissmmm Act 1–Act 4 examines how artists use materials to tell stories about their surroundings and daily life. The exhibition creates connections between the artworks and the observer and examines how the curator can affect the aforementioned relationship between work and audience. As a whole, the exhibition is presented as thematic of how the institution presents itself, the art and the observer, to give the audience the experience and knowledge of, how meaning and connections are created spatially.
Minimalism-Maximalism-Mechanissmmm is divided and conceptualized into four acts by director of Art Hub Copenhagen Jacob Fabricius.
Act 3 features works by former residents at Art Hub Adam Khalil (as part of New Red Order) and Kasper Hesselbjerg as well as works by Cha Sla, SUPERFLEX and The Dumpling Club.
Act 4 is curated by Mikkel Elming, director at Glasmuseet Ebeltoft, and features works by Ali Kazim, Elsa Salonen, Lola Daels, Seulgi Lee, Studio ThinkingHand and Tove Storch.
Organized by Art Sonje Center and Kunsthal Aarhus.
Supported by Art Hub Copenhagen, Augustinus Fonden, Danish Arts Foundation, Embassy of Denmark in Korea and Knud Højgaards Fond.
Luk
Art Hub : Exhibitions : 27DAGE : 01.02.22 – 27.02.22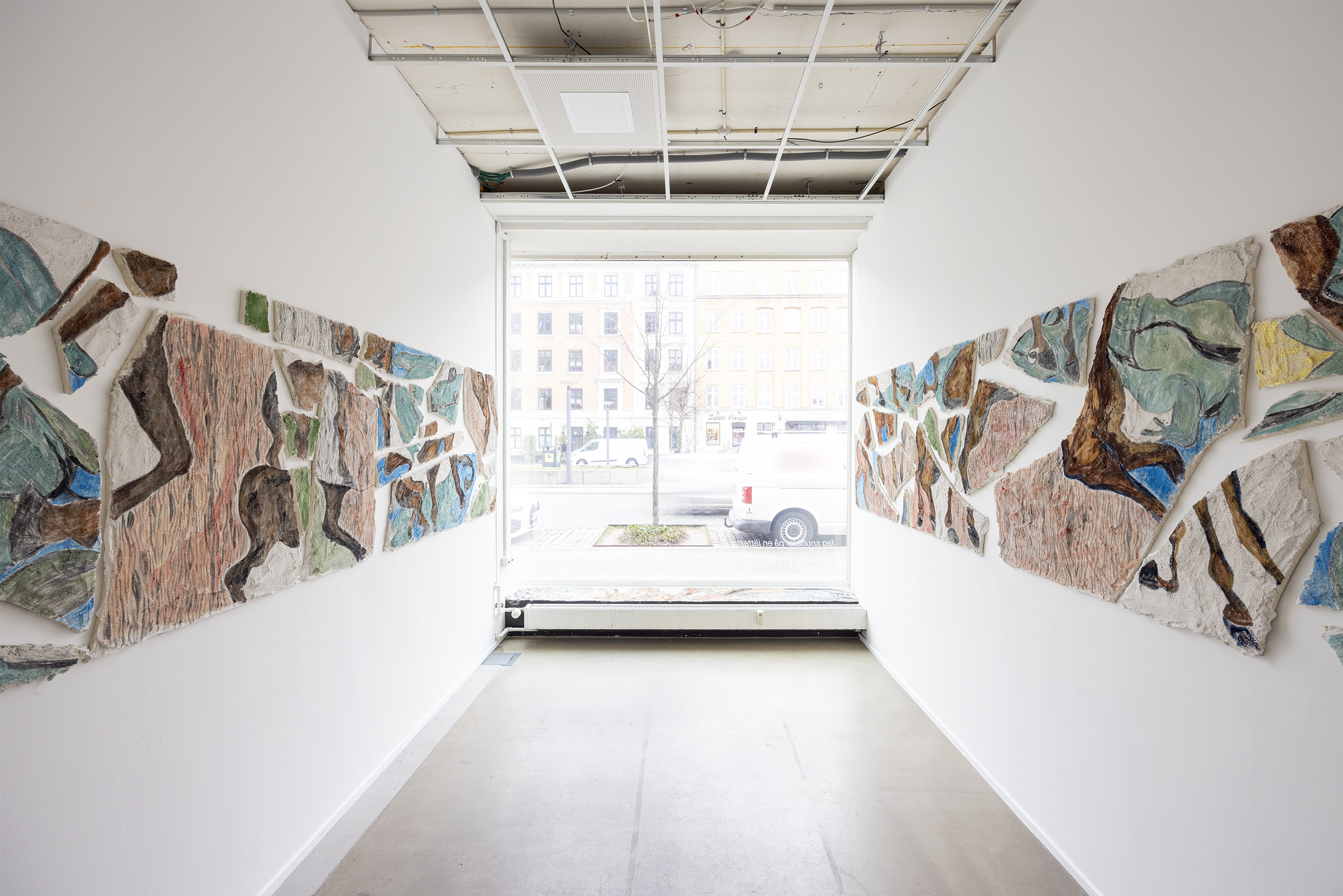 Installation view from the exhibition "27DAGE" (2022). "Jag snubblar på en jättestor tår" by Melannie Kitti. Curated by SOL. Photo: Malle Madsen.
1 February – 27 February 2022
Could be seen from the street around the clock.
Halmtorvet 27
1700 Copenhagen V
27DAGE (27DAYS) was the title of an exhibition in Art Hub's three studios, all the windows of which look out onto Halmtorvet at Vesterbro in Copenhagen. The exhibition was on show during February 2022.
Each studio was curated by an artist-run exhibition venue: SOL (Nexø), Bizarro (Copenhagen) and the nomadic art institution, f.eks. (Aalborg). Featuring site-specific installations and interventions, the exhibitions were run simultaneously, each in its own way activating the three spaces facing the street. The exhibitions could be seen from the street around the clock. Visitors could also see parts of the exhibitions indoors at selected times of the day.
Bizarro presented a work by the artist Mickael Marman, created specifically for the space. SOL invited the artist Melanie Kitti to exhibit in their space, while f.eks. transformed the space into an ad hoc 'office space', in which they conducted research, interviews and events for the duration of the exhibition. F.eks produces three texts during the exhibition, all of which will be made available at this page as "publishing moments".
Mickael Marman on the work KMS/ACC/FRA/TXL/CPH.
More on Melanie Kittis work Jag snubblar på en jättestor tår.
The first "publishing moment" from f.eks.
The second "publishing moment" from f.eks.
In this exhibition, Art Hub set out to support Denmark's numerous artist-run exhibition venues that continuously show exhibitions and organise events, frequently concentrating on younger Danish artists and their works.
These three particular exhibition venues were chosen to take part in 27DAGE, because together they represent both stationary exhibition spaces and more nomadic structures. They also come from different areas of Denmark. Art Hub aims constantly to invite artist-run venues to cooperate in different contexts, thereby supporting the many aspects and practices to be found both locally and nationally.
27DAGE marked the second occasion on which Art Hub invited young artists to exhibit in the area in and around Halmtorvet. The first was the exhibition This is a Meat City (2021), in which nine artists exhibited works in shops and restaurants throughout the meat-packing district of Vesterbro in Copenhagen.
Text by Mickael Marman about his work KMS/ACC/FRA/TXL/CPH.
Luk
Art Hub : Exhibitions : Thoravej 29 : 17.09.21 – 31.10.21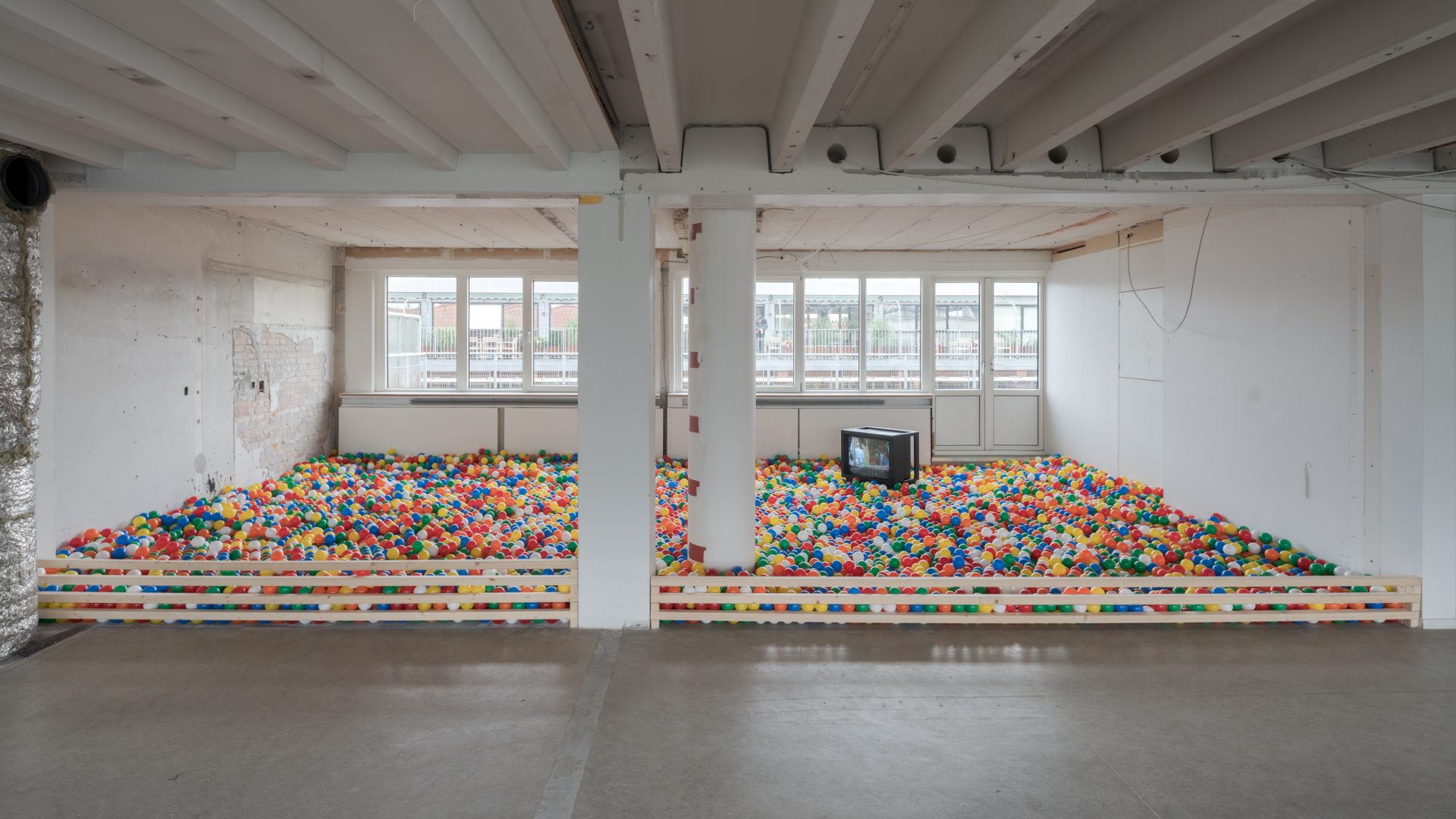 Installation view from "Everything is Simple and Beautiful, and You are My Friend (An exhibition for children)" curated by Institut Funder Bakke, Painter (1995) by Paul McCarthy (Louisiana Museum of Modern Art, Humlebæk) Photo: David Stjernholm / @david_stjernholm
September 17 – October 31, 2021
Thursday – Sunday 1-6pm
Thoravej 29
2400 Copenhagen NV
In 2023, Art Hub Copenhagen will move from its current premises at Halmtorvet in Copenhagen into a newly renovated building at Thoravej 29 in the northwest district of the capital. Before the renovation of the former factory building commenced, in collaboration with Bikubenfonden (the owner of the building), Art Hub gave five curators the opportunity to transform each floor into a temporary exhibition space, presenting works by one or more contemporary artists.
The title of the exhibition was straightforward: Thoravej 29. It featured five exhibitions curated by five curators, each of who was allocated one floor, free rein and a budget to create an exhibition of their own choosing. From the dark underground car park to the bright, open upper floor, works by a total of 23 artists  in total revealed the diversity of the artists' work and expression.
The exhibition was on show from 17 September until 31 October 2021.
Curators: Feminist Collective With No Name (FCNN), Institut Funder Bakke, Culture Art Society (CAS), Kristian Vistrup Madsen and Mette Woller.
Artists: Jeannette Ehlers, Santiago Mostyn, Nikhill Vettukattil, Jelsen Lee Innocent, Andromeda 8220 v. Aysha Amin, Tolia Astakhishvili, Bamses Billedbog, Karim Boumjimar, Lydia Östberg Diakité, D.N.A., Rochelle Goldberg, Liv Latricia Habel, Mia Edelgart / Sebastian Hedevang, Noah Umur Kanber, Paul McCarthy, Ruby Mariama Laura Andersen Ndoye, Vera Palme, Michala Paludan, Spaghetti Clurb og Young Boy Dancing Group.
Information folder from the exhibition.
As part of Thoravej 29, a performance by Young Boy Dancing Group could be experienced for one night in the exhibition "Alien Water" curated by Mette Woller.
In collaboration with Bikubenfonden.
Luk
Art Hub : Exhibitions : This is a meat city : 28.09.21 - 10.10.21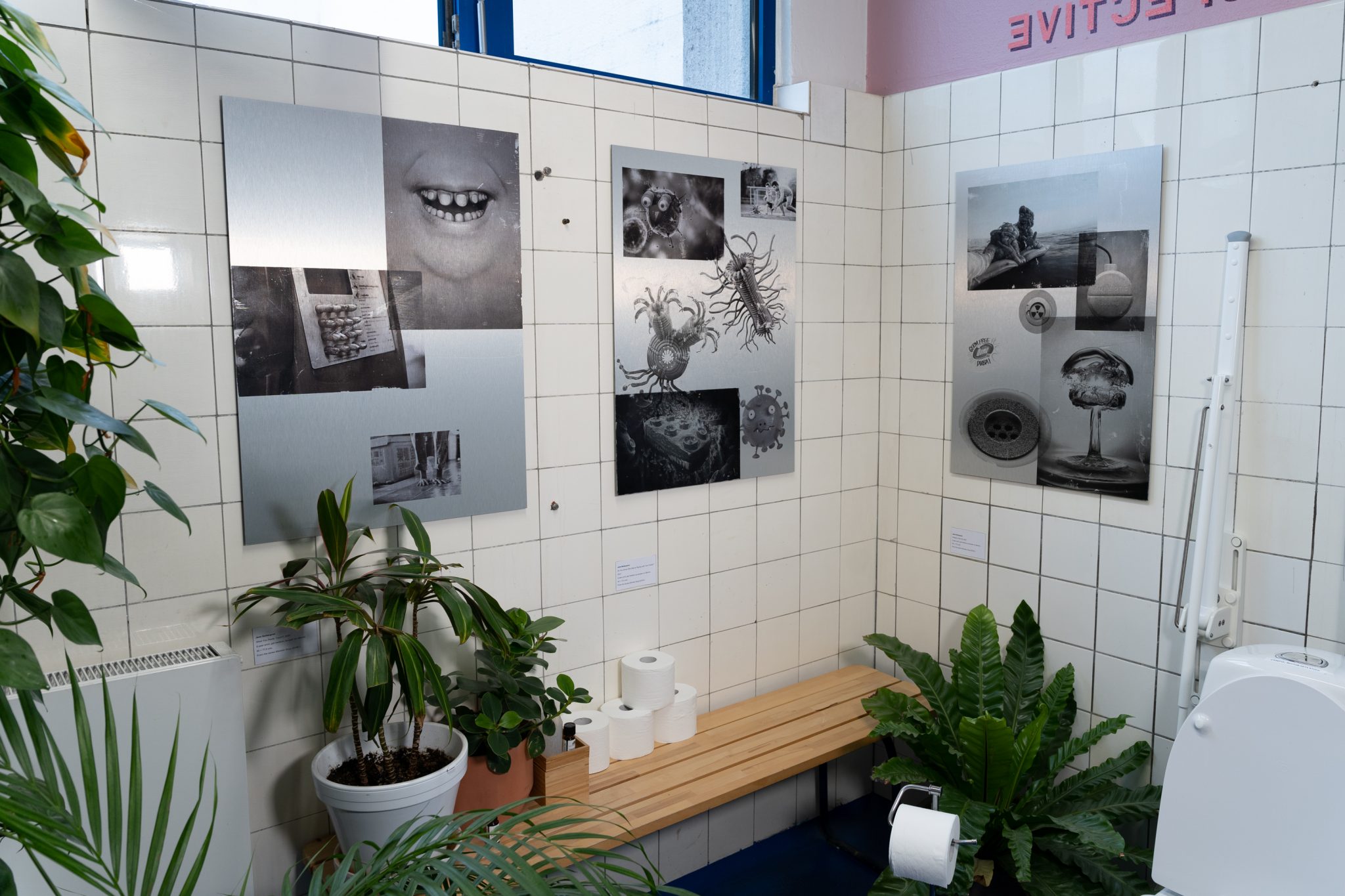 What You Really Touch? (2021), Do You Know Who Else Is Playing with Your Family? (2021), Holiday's Over (II) (2021), Germs Just Can't Reproduce (2021) all from the series Monster Soup (2019 – ) by Jens Settergren. Exhibited at the bathroom at Space 10. Photo: Christian Brems.
September 28 – October 10, 2021
The Meatpacking District
DK-1700 Copenhagen V
Enjoy an artistic voyage in Kødbyen, Copenhagen's former meatpacking district, where nine artists will be exhibiting their work in nine different commercial premises. Works will be exhibited on shelves, tables or empty corners in the various locations, creating small surprises when you go shopping, dining or just for a stroll in the area.
The exhibition presents works by a young, talented artists from both Denmark and abroad in the context of Art Hub's local neighbourhood.
The nine artists featured in this extraordinary exhibition include Kasper Hesselbjerg, Mia Edelgart and Steffen Jørgensen, all of who have had residencies at Art Hub. The other six are Gro Sarauw, Adam Khalil and Thuy-Han Nguyen-Chi, currently in residence at Art Hub, and Linda Lamignan, Marie Munk and Jens Settergren, currently taking part in the Bikubenfonden Residency-to-go programme.
For Art Hub the exhibition is an experiment showing art in new settings and by doing that directing attention to the potential of art.
All you have to do to enjoy the exhibition is to explore Kødbyen. But Art Hub can also provide you with information about the various exhibition venues. (Available Monday to Friday between 10.00 am and 3.00 pm).
PLEASE NOTE: The work Working Out (My Survival) by Marie Munk has been relocated and is now on show in the windows of Art Hub at Halmtorvet 27.
The exhibition can be experienced from September 28, as part of Art Week Copenhagen.
Supportet by Vesterbro Lokaludvalg.
Luk