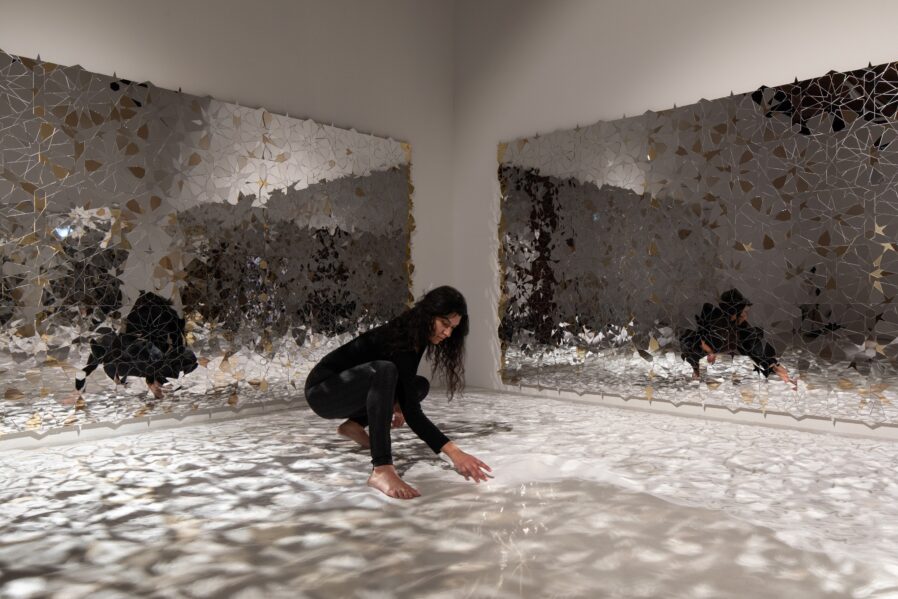 This year, Art Hub Copenhagen (AHC) has entered into a collaboration with Performa Biennial New York and will contribute to this year's program, which opens on November 1, 2023.
With a donation from the New Carlsberg Foundation, AHC has commissioned and invited eight visual artists, including three of the artists who participate in AHC's outreach program Artistic Practice. Each will engage with an esteemed conversation partner in an 'artist talk'.
Lina Hashim meets with the curator at MoMA PS1, Ruba Katrib.
All three talks will take place at the Performa Hub on November 6th and will unfold the artists' practices for the audience. In conversation with the various invitees, they will provide new insights into their work.
~
ABOUT LINA HASHIM
Born in Kuwait City in 1978, the artist/performer Lina Hashim lives and works in Copenhagen. She graduated from the Royal Danish Academy of Fine Arts in 2020. A recurrent theme in Hashim's practice is the investigation and exposure of aspects of Islam that are usually concealed from the public. Her investigations are in no way blasphemous, but are part of a critical, nuanced dialogue with religion. Hashim has said: "If Islam is a play, I want to show what goes on backstage." In her investigations, Hashim has a two-pronged perspective on Islam: on the one hand, as a woman raised in Islam; on the other hand, as a critical viewer.
Hashim's works also involve a feminist aspect. This is particularly evident in the work Uden vind (No Wind) (2012), which features images of Muslim women's hair under their scarves. Unlawful Meetings (2014) tackles sexual double standards: partly by demonstrating how the tenets of chastity are much tougher on Muslim girls than on Muslim boys. Suicide Bombers (2016) focuses on the conviction that in paradise female suicide bombers are granted a completely different status than their male counterparts. In her latest work, The Touch (2020), she uses lecture-performance, dance and installation to tell her own story.
ABOUT RUBA KATRIB
Ruba Katrib is a Syrian-American curator of contemporary art. She has served as Curator and Director of Curatorial Affairs at MoMA PS1 since 2017.

ABOUT PERFORMA 2023
Performa was founded by art historian and curator RoseLee Goldberg, dedicated to exploring the critical role performance played in the history of 20th-century art and to encourage new directions in performance art in the 21st century. The Biennial's mission is about commissioning new performance works by American and international contemporary artists; presenting a three-week biennial of live performances in New York City; offering public educational programs, exhibitions, and producing printed publications through the Performa Institute; and disseminating content, context, and commentary through archives and digital channels, reaching a global audience.
See the full year's program and learn more here.
MORE ABOUT ARTISTIC PRACTICE
AHC's outreach program, Artistic Practice, is an interview format that focuses on a selected artist's practice with the purpose of conveying it. It occurs both as a video portrait and as a live event, where the artist meets an international figure of their own choosing.
Artistic Practice is structured around an interview format that zeroes in on the individual artist's practice with the intent to communicate it. The interview unfolds as both a live event and a video portrait, which can help to increase awareness about the artist. In the interview, each artist meets an international figure who can open up the artist's practice in new ways. The artist is also involved in selecting their conversation partner. Besides the interview, the program also offers support and mentoring in terms of building an international network.
Artists in Artistic Practice are professional Danish artists in the midst of their careers, who have distinguished themselves as groundbreaking and innovative. They are artists who have predominantly exhibited in Denmark but are seen to have the potential to reach out in an international context. It is this potential that Artistic Practice supports.
Artistic Practice is carried out in collaboration with project manager and editor Karina Lykkesborg.