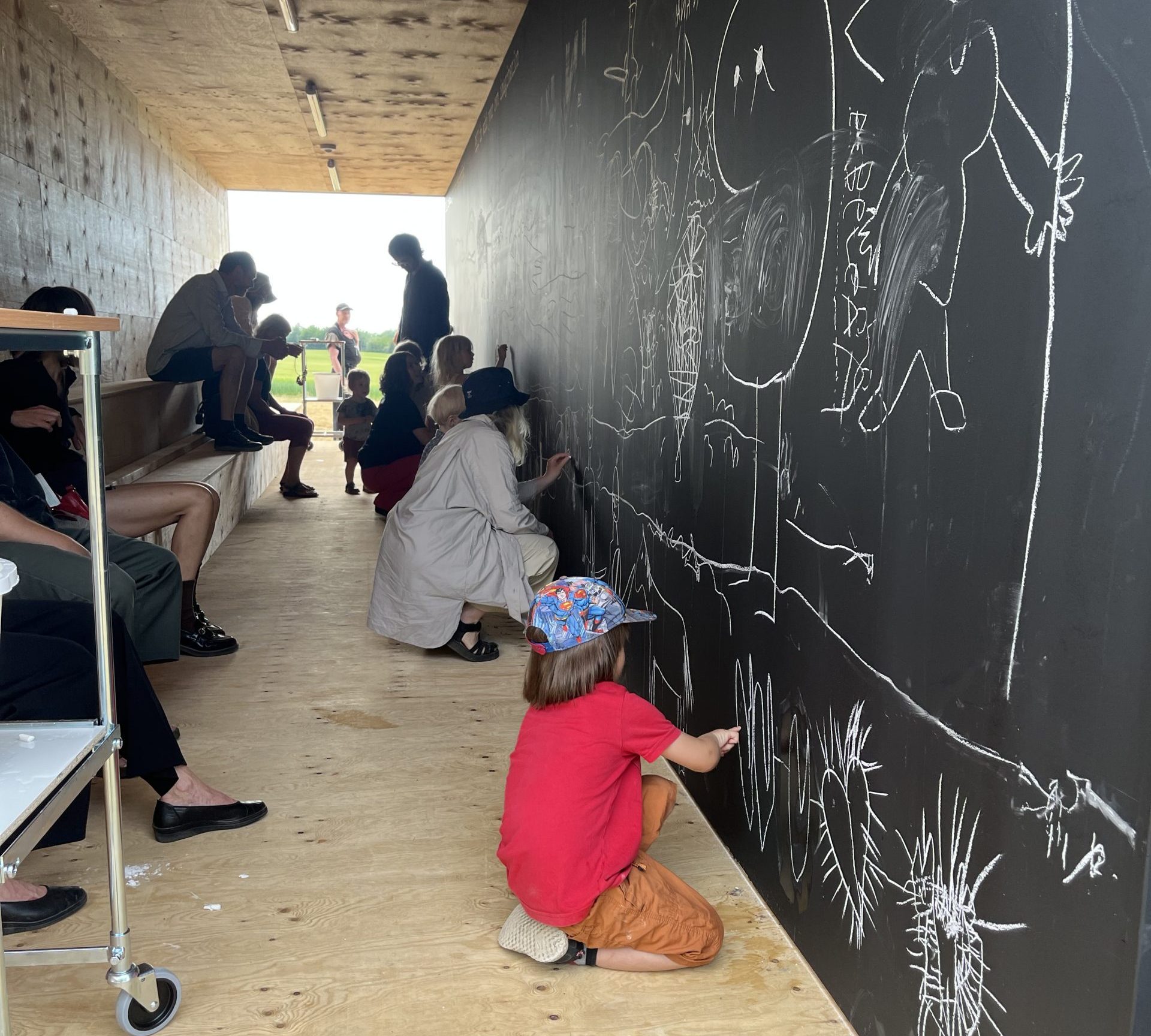 "Fill in with your own imagination." That's what it says on the board – a paraphrase of the title of Arthur Køpcke's 1964 work fill: with own imagination. In summer 2023, Bjørn Nørgaard is borrowing these stimulating words and using them as the framework for a series of conversations, to which he is inviting you at Kunsthal 44Møen. He wants to provide guests with a sample of the interdisciplinary discussions he dreams of promoting at the Container Academy in the Nordhavn district of Copenhagen.
The Container Academy is an upcoming studio community, expected to open in November this year. It will accommodate approximately 30 artists who not only need a studio in Copenhagen, but who also wish to be part of a community based on continuous, like-minded, exploratory conversation.
In three conversations at Kunsthal 44Møen, Bjørn Nørgaard will invite one artist and one scientist to meet at the blackboard with a piece of chalk. They will be asked to share their respective practices with each other and discuss the two forms of knowledge they represent: evidence-based and speculative.
~
CONVERSATION
Thursday 13 July at 1.00 pm
Artist Kristoffer Ørum & associate professor and particle physics researcher at the Niels Bohr International Academy, Emil Bjerrum-Bohr. Moderated by Bjørn Nørgaard.
The conversation will be conducted in Danish.
ABOUT KRISTOFFER ØRUM
Kristoffer Ørum is an interdisciplinary visual artist based in Copenhagen and holds dual degrees from Goldsmith College and The Royal Academy of Fine art. He was a professor at Funen Art Academy 2012-2015 and has worked as an artistic researcher at Uncertain Archives, University of Copenhagen 2015-2018. His interdisciplinary practice revolves around the digital spheres and their impact on everyday life. He has published, performed and exhibited internationally since 2005.
ABOUT EMIL BJERRUM-BOHR
Emil Bjerrum-Bohr is a researcher at the Niels Bohr Institute in Copenhagen. His research deals with theoretical quantum and particle physics, and he is currently working with gravity and what happens when two black holes swallow each other in the Universe.
~
MORE ABOUT THE COINTAINER ACADEMY IN NORDHAVN
The Container Academy is currently under construction in the Nordhavn section of Copenhagen and is expected to be inaugurated and in operation from November 2023. It will accommodate 30 studios and two large joint workshops in one large "container" - an industrial building covered with steel sheets.
The "Academy" in Container Academy refers to the School of Athens; the Socratic idea of equal conversation between free people as expounded by Plato. The Container Academy is built and run by the Container Academy Foundation in collaboration with Art Hub Copenhagen, which will take care of the organisation of the artistic program as well as the day-to-day operations.
Quite practically, studios are rented out to younger artists. You can apply for a lease for 3-5 years (3 years with a 2-year extension).
The Container Academy at Kunsthal 44Møen this summer is a container, and an example of how a discussion and conversation can take place in the final Container Academy in Nordhavn.