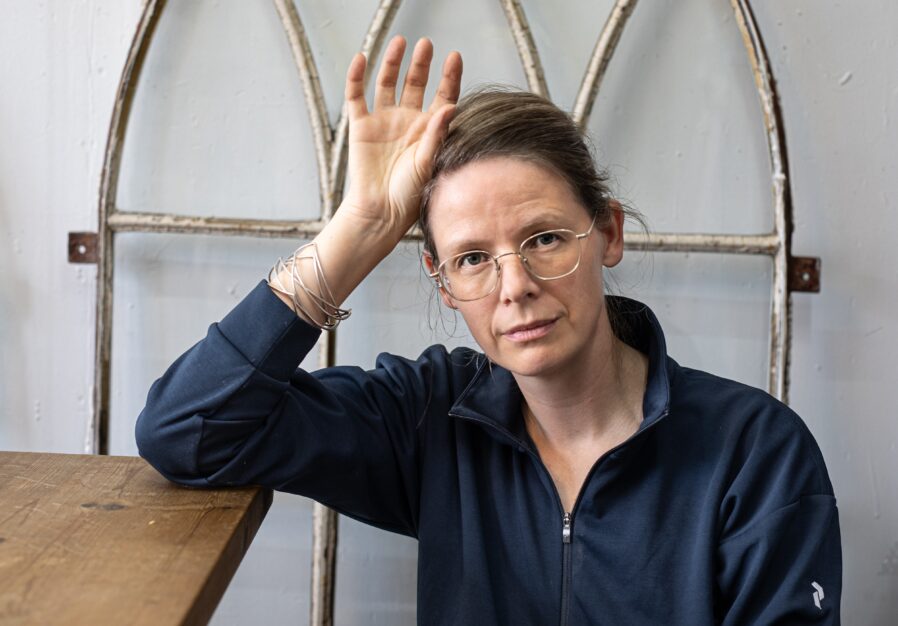 This year, Art Hub Copenhagen (AHC) has entered into a collaboration with Performa Biennial New York and will contribute to this year's program, which opens on November 1, 2023.
With a donation from the New Carlsberg Foundation, AHC has commissioned and invited eight visual artists, including three of the artists who participate in AHC's outreach program Artistic Practice. Each will engage with an esteemed conversation partner in an 'artist talk'.
Hannah Heilmann meets with independent curator Jeppe Ugelvig.
All three talks will take place at the Performa Hub on November 6th and will unfold the artists' practices for the audience. In conversation with the various invitees, they will provide new insights into their work.
~
ABOUT HANNAH HEILMANN
Hannah Heilmann holds a Master of Arts in Art History from the University of Copenhagen and teaches at the Royal Danish Academy of Fine Arts. She works primarily with installation, objects and performance, and has performed at Marselleria, Milano, Manifesta 11, Zürich, SMK – National Gallery of Denmark, Copenhagen, and the National Gallery of Art, Vilnius. Her work has been presented at ARoS, Aarhus, Møstings Hus, Copenhagen, Den Frie Centre of Contemporary Art, Copenhagen, Shoot the Lobster, Los Angeles, and EKKM, Tallinn. She co-founded the artistic program space TOVES (2010-2017) and is a former member of the artist group Ingen Frygt (2001-2010). Her works are in collections including SMK – National Gallery of Denmark, Kunstmuseum Brandts, and HEART Museum of Contemporary Art.
Heilmann uses her performances and works – often made of cheap, ephemeral materials – to explore our relationship to the object and commodity. The body is set against its surroundings, behavior is on a continuum between a sense of value and acquisitiveness, the gallery can take the form of a showroom, and consumption is connected to both desire and shame.
In connection with Heilmann's 2021 exhibition A Webshop through the Ages at Ariel in Copenhagen, art critic Mathias Dyhr wrote that she works with surgical precision in the crack "where it is impossible to distinguish between free will and coercion by consistently playing on ambivalence, interaction and repetition." Through doubt and ambiguity, daydreams and everyday materials, Heilmann criticizes the social and economic systems enmeshing contemporary experience. Hannah Heilmann lives in Copenhagen.
ABOUT JEPPE UGELVIG
Jeppe Ugelvig (b. 1993) is a danish curator, historian, and cultural critic based in California. He is a current Ph.D. candidate at UC Santa Cruz, where his research focuses on artistic responses to consumerism and product culture in the global 20th century.
ABOUT PERFORMA 2023
Performa was founded by art historian and curator RoseLee Goldberg, dedicated to exploring the critical role performance played in the history of 20th-century art and to encourage new directions in performance art in the 21st century. The Biennial's mission is about commissioning new performance works by American and international contemporary artists; presenting a three-week biennial of live performances in New York City; offering public educational programs, exhibitions, and producing printed publications through the Performa Institute; and disseminating content, context, and commentary through archives and digital channels, reaching a global audience.
See the full year's program and learn more at https://performa2023.org/
MORE ABOUT ARTISTIC PRACTICE
AHC's outreach program, Artistic Practice, is an interview format that focuses on a selected artist's practice with the purpose of conveying it. It occurs both as a video portrait and as a live event, where the artist meets an international figure of their own choosing.
Artistic Practice is structured around an interview format that zeroes in on the individual artist's practice with the intent to communicate it. The interview unfolds as both a live event and a video portrait, which can help to increase awareness about the artist. In the interview, each artist meets an international figure who can open up the artist's practice in new ways. The artist is also involved in selecting their conversation partner. Besides the interview, the program also offers support and mentoring in terms of building an international network.
Artists in Artistic Practice are professional Danish artists in the midst of their careers, who have distinguished themselves as groundbreaking and innovative. They are artists who have predominantly exhibited in Denmark but are seen to have the potential to reach out in an international context. It is this potential that Artistic Practice supports.
Artistic Practice is carried out in collaboration with project manager and editor Karina Lykkesborg.