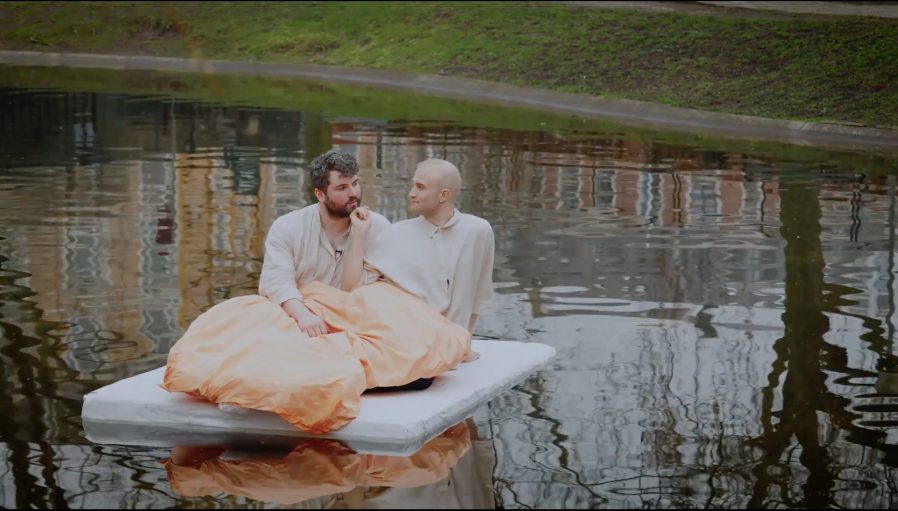 Join us for an evening with performance, screening, artist talk, and readings by artist Filip Vest, author Luka Holmegaard, and the performers Sigrid Stigsdatter and Klara Lopez.
In the spring of 2023, Filip Vest took part in Art Hub Residency, and on September 6, in collaboration with AHC and SKITSE, he presents a performative program that invites the audience to dive into his artistic thinking and work on themes such as identity, relationships, and transformation.
Titled Rehearsing Identities, this event explores the different roles we perform and cast each other in every day. How our gender, sexuality, work – and relationships or identities in general – are always dictated by certain normative scripts that we try to succeed in performing or rebelling against.
As an entry point for the evening, Filip Vest will present his latest performance work Resort and for the first time show this work as a screening (read more about the work below). Furthermore, Vest has invited other artists to present their work – all of this to investigate the various performances we constantly put on for ourselves and each other, while we try to make ourselves legible to the outside world and negotiate our relations.
Author Luka Holmegaard will read from various publications, including except of Look (2020) and poems from his newly published poetry collection, Havet i munden, while Sigrid Stigsdatter and Klara Lopez will perform their collective work Maybe it´s too long, which too revolves around transformation and self-image, with a special focus on the movement of the body between private and public spaces.
~
INFO
6 September 2023 at 7:00-9.30PM

Art Hub Copenhagen (AHC)
Halmtorvet 27, 1700 Copenhagen V
PROGRAM
7.00PM Short artist talk: Filip Vest introducing to the film version of his performance work Resort (with English subtitles)
8.00PM Readings by Luka Holmegaard
8.45PM Performance by Sigrid Stigsdatter & Klara Lopez
Its free to participate in this event, but to secure a seat, please register here.
The event is in English.
This event is organized in a collaboration between Skitse and AHC.
~
ABOUT FILIP VEST & RESORT
Filip Vest graduated from Malmö Art Academy in 2021 and has previously presented his work at the National Gallery of Denmark, Copenhagen Contemporary, Møstings, Nikolaj Kunsthal, Charlottenborg, Tallinn Art Hall, and at Manifesta 13. Using performance, installations, film, and texts, he explores queer love, loneliness and desire in the 21st century. Applying rehearsal methods from the world of theatre, he tests the relationship between the script and the body to negotiate the narratives we are part of; the stories we tell ourselves and others about who we are and how we love.
Resort is a performance about a fictional surreal holiday paradise, where climate crisis, human isolation and escapism lurk right under the luxurious surface. The performance revolves around a couple that has gone on a holiday to a resort to fix their relationship. They begin a role play, where they pretend to be two strangers that meet in a hotel bar, but as they try out different scenarios, they slowly lose their sense of self. At the fictional resort everything appears porous; nature and culture, identities, and relations, and past, present, and future coalesce. Small and big movements affect each other: a crumbling relationship and the end of the world.
~
ABOUT LUKA HOLMEGAARD
Luka Holmegaard is an author. He graduated from Forfatterskolen (The Danish Academy of Creative Writing) in 2013 and have since published novels, essays, poems, and criticism. His latest book, Look was well received and has been translated into German. He received a two-year working grant from the VELUX Foundations, and his last two books were both nominated for the Politiken Literature Prize.
~
ABOUT KLARA LOPEZ
Klara Lopez is a multidisciplinary visual artist. With a dance background, she is currently a student at the Schools of Visual Arts, The Royal Danish Academy of Fine Arts. Featuring a variety of media, her works explore intimacy, distance, desire and disgust.
ABOUT SIGRID STIGSDATTER
Sigrid Stigsdatter works with choreography, performance, singing and writing. She completed her studies at the SNDO (School for New Dance Development – Amsterdam) in 2017. In her works, she uses word and voice, dance, and sound as power tools to deal with the female body on and off stage, female erotics, sensuality, and power relations.