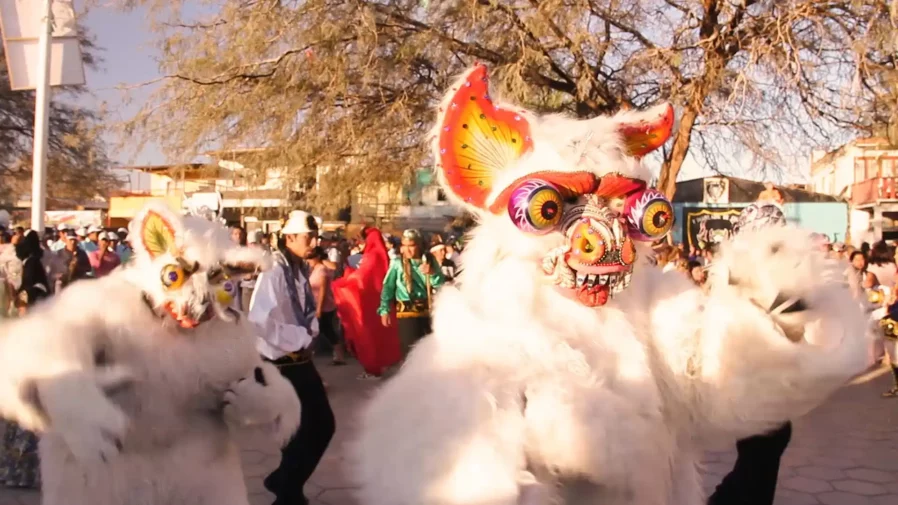 This fall, Art Hub Film Club is back in collaboration with Vester Vov Vov. For this forth season, we have invited former resident Javier Tapia and his filmmaker colleagues to host and curate a selected program of experimental documentary films that features the landscape and nature of North America, Central America, and South America as the main protagonist.
The selected films center around complex ecological landscapes and man-made changes, spectacular cultural phenomena, and geopolitical dilemmas.
Second film in the series is Chollywood by Nicolás García Fernandez.
~
Participation in the screening is free, but it is mandatory to book a seat in advance.
~
ABOUT Chollywood by Nicolás García Fernandez:
Every year in July, thousands of people travel to the Pampa del Tamarugal, a national nature reserve in the middle of the Atacama Desert in Chile, to partake in the festival La Tirana and to honor the Virgin del Carmen. La Tirana is the biggest geographically localized religious festivity in Chile and attracts between 200,000 and 250,000 visitors during one week of celebrations. Besides the religious elements, the festival is a place for superstition, syncretism, and global culture and becomes a surreal experience where festivalgoers dress up as dancing devils, polar bears, famous Disney characters, and other pop-cultural phenomena. Together, they go on a pilgrimage to ask for magical favors from the Virgin of La Tirana.
The festivalgoers form the tapestry of Chollywood, a documentary by Nicolás García Fernandez that delves into the mesmerizing world of the Latin American festivals. The film artfully weaves together diverse audiovisual elements, stepping away from traditional ethnographic portrayals to invite viewers into a unique celebration found only in the northern part of Chile.
~
MORE INFO
Chollywood / Nicolás García Fernandez
Genres: Documentary
Duration: 55 minutes
English subtitles.