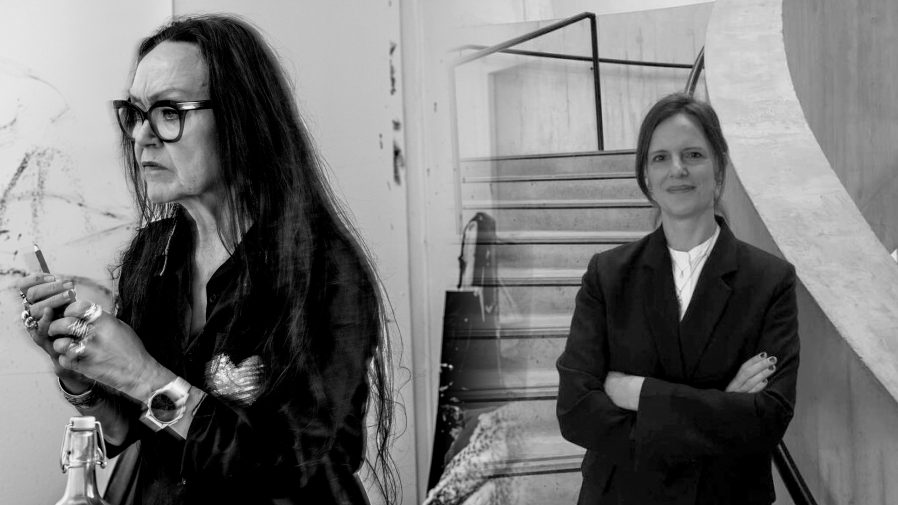 This fall marks Jessie Kleemann's (b. 1959) exhibition at the National Gallery of Denmark, SMK, the artist's first exhibition at a Danish museum.
To mark the occasion, Art Hub Copenhagen (AHC) and SMK are co-hosting a talk in which Kleemann explores her artistic practice in conversation with Catherine Wood, Director of Program at Tate Modern, London.
Jessie Kleemann has been selected for Art Hub Copenhagen's Artistic Practice program where we focus on a specific artist's practice, profiling the artist and their work via a video portrait and live event with the artist and an international art expert of their own choosing. Jessie Kleemann has chosen Catherine Wood, who has spent the last 20 years curating performance and other live art.
Performance art will be central to the conversation between Kleemann, Wood and a live audience. Over three decades Jessie Kleemann's original and expressive approach to video art, experimental theatre, feminism, the body, and performance art have made her a powerful voice in contemporary art.

The solo exhibition Running Time at SMK presents Kleemann's extensive oeuvre and the themes at its core: global power politics, colonization, and climate change. The exhibition focusses on Kleemann's performative works, from her first video performance from the late 1980s to a brand-new performance work commissioned for Running Time. Kleemann and Wood will be delving into the archives and exploring more recent performance works during a conversation you are invited to join on 20 September.
Booking required. Tickets – which cost 10DKK + booking fee – are available via Billetto.
Please note: The ticket only gives access to the talk. If you want to experience the museum's exhibitions, you must buy a separate entrance ticket.
The conversation will be in English.
The conversation will be recorded on video for inclusion in Art Hub Copenhagen's portrait series Artistic Practice.
~
ABOUT ARTIST JESSIE KLEEMANN
Jessie Kleemann is a poet and visual, performance and theater artist. Throughout her life she has travelled back and forth between Kalaallit Nunaat (Greenland) where she was born and Denmark where she now lives and works. Jessie Kleemann studied at Tuukkaq Teatret in Fjaltring, Northern Jutland, Denmark, and the Greenland Art School Eqqumiitsuliornermik Ilinniarfik in Nuuk where she has also been director.
Based on complex relationships and exchanges between cultures, Kleemann's art probes the way Greenlandic identity and traditions and the body, landscape, and language of Greenland change over time. Her works challenge and play with symbols and objects from a Greenland colonized by Denmark as well as Inuit culture, from ship biscuits and bead collars to mask dances, myths, and blubber. Deploying a dual strategy exploring the humoristic and tragic Kleemann's works represent a critical dramatization of themes such as colonization, climate change and other contemporary transcultural and transnational challenges.
In 2022 Jessie Kleemann was nominated for the Nordic Council Literature Prize for her poetry collection Arkhticós Dolorôs (2021).
In addition to the solo exhibition Running Time at SMK until 29 October 2023 Jessie Kleemann also has a solo exhibition – Lá. Læ. Likkja. Magna. Jessie Kleemann – at Kunsthal Rønnebæksholm.
~
ABOUT CATHERINE WOOD
Catherine Wood came to Tate Modern, London, in 2002 after being a curator at the Barbican Art Gallery and the British Museum. Over the past 20 years she has been key to making performance and live art a core part of programming at Tate Modern. In 2015 she was appointed Senior Curator, International Art (Performance). The many artists she has worked closely with include Joan Jonas, Tarek Atoui, Fujiko Nakaya, Mark Leckey, Anne Imhof, Carlos Amorales and Otobong Nkanga, and she has co-curated major exhibitions like The World as a Stage in 2007, Pop Life: Art in a Material World in 2009, A Bigger Splash: Painting After Performance in 2012 and Robert Rauschenberg in 2016.
~
ABOUT RUNNING TIME
In the solo exhibition Running Time at SMK Jessie Kleemann uses the humoristic and tragic in equal measure to explore the ways in which identity, culture and nature in Greenland have changed over time. Kleemann uses objects from traditional Inuit culture, colonialism, and contemporary Greenland. From kayaks, kamik boots and Inuit myths, to colonial goods, stilettos, and designer clothing. Kleemann is not interested in romanticized longing for the past. On the contrary, she uses her cultural heritage to challenge stereotypes and exotic fantasies about an unspoiled Greenland.
In Running Time Kleemann poses critical questions about global power politics, colonization, and climate change in works that explore the many meanings of seal blubber, the Arctic pain of the title of the video performance Arkhticós Dolorôs, and an over-dimensioned dogsled with ATV wheels in the museum's covered Sculpture Street. Kleemann has adapted the traditional Greenlandic dog sled to a changed landscape in which the ice is melting, transforming the lives of hunting families.
The exhibition at SMK runs until 26 November 2023. Read more about the exhibition here.
~
ABOUT ARTISTIC PRACTICE
AHC's Artistic Practice program is based on interviews profiling the practice of individual artists. The interview takes place both live and in a video portrait of the artist aimed at promoting the artist and their work. In the interview the artist meets an international art expert of their own choosing for a conversation aimed at exploring their practice from new perspectives. In addition to the video format the program includes support and sparring in establishing an international network.
The artists selected for AHC's Artistic Practice program are mid-career artists in Denmark the jury considers to have a ground-breaking approach producing innovative work. Artists who have to date mainly exhibited in Denmark, but who are considered to have the potential to have an impact in an international art context. It is this potential Artistic Practice is designed to foster.
The artists are nominated by a jury. The program is therefore not open for applications.
AHC's Artistic Practice program is run in collaboration with project manager and editor Karina Lykkesborg.